Our Members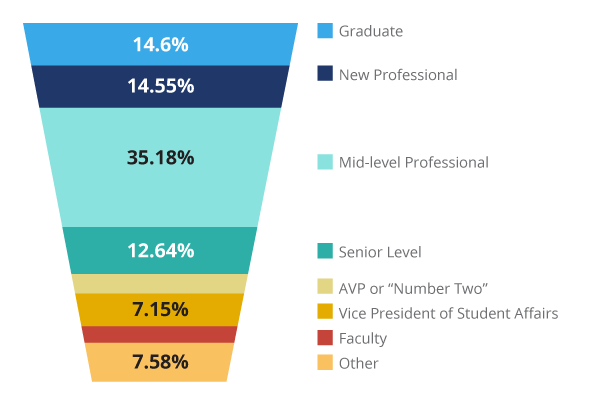 Total number of members: 13,000 plus
Professional Level

Undergraduate

Graduate

New Professional

Mid-Level Professional

Senior-Level Professional

AVP/#2

VPSA

Other, Executive

Graduate Preparation Faculty

Retired

What area of student affairs:

Career and Workforce Development

Civic Engagement

Equity, Inclusion, and Social Justice

Student Financial Wellness

Health, Safety, and Well-being

Policy and Advocacy

Student Success

Supporting the Profession
Purchasing Power of various departments or areas including:
senior student affairs officers

housing

orientation

conduct

student safety

counseling

fundraising

alcohol & other drug

support for military

Title IX compliance

student activities

student unions

dining services

multicultural affairs

career services

and more
2,100 institutions that serve a market of over 15.6 million students with an annual purchasing power of $20 billion
Virtual Engagement Opportunities
NASPA is pleased to offer a multitude of options for your company to reach the membership. No matter what your budget is, there is an option waiting for you to get in front of NASPA members. Below are are some exciting new opportunities. Please contact Fred Comparato for more information.
Digital Advertising Options
Looking for impactful advertising opportunities to reach NASPA's more than 13,000 members and 17,000 subscribers? Below are our resourceful advertising options and samples. If you would you like to advertsie with NASPA, please contact Fred Comparato for more informaiton.
Leadership Exchange
This quarterly magazine is a vital source of information and opinion for key DECISION MAKERS and influencers at colleges and universities worldwide.
Click on the magazine to view past issues:
NASPA Weekly Update and Conference Attendee Emails
The Community Update is our serial Wednesday newsletter that touches on current events, upcoming professional development opportunities and new initiatives.
Conference Attendee Emails are a series of conference update emails sent to all conference attendees leading up to a conference.
Retargeted Marketing
Our audience becomes your audience with retargeting. Get direct access to NASPA website visitors and retarget them with your brand's ads anywhere they visit online.

Media Kit-Insertion Order-Ad Specifications
Larger NASPA Events
Getting invovled at NASPA's three largest events creates the opportunity for you to reach over 10,000 members. Explore the below opportunites (both past and upcoming events) to see how you can engage with our members.
Conferences on Student Success in Higher Education | June 25-27, 2023
The NASPA Conferences on Student Success in Higher Education convenes the student success-focused community to engage in important professional development, exchange innovative ideas, and network with peers. Attendees will engage with content from the Assessment, Persistence, and Data Analytics Conference, First-generation Student Success Conference, and the Dismantling Systemic Barriers to Student Success Conference.
Visit the 2023 SSHE webpage or contact Fred Comparato for more information.
NASPA Strategies Conferences | January 18-20, 2024
The 2024 NASPA Strategies Conferences provide student affairs practitioners with the knowledge and skills to effectively address collegiate alcohol and drug abuse prevention, mental health, sexual violence prevention and response, and well-being through a variety of comprehensive and integrative approaches.
Please contact Fred Comparato for more information.
NASPA Annual Conference | March 9-13, 2024
Look for upcoming exhibit and sponsorship opportunities this fall that will focus on how the 2024 NASPA Annual Conference will provide unique opportunities for your company/organization to reach your target audience as well as show a rewarding rate of return on your support!
Please contact Fred Comparato for more information.
VPSA and AVP Events
NASPA meets the professional and personal development needs of its most senior members through high-quality and high-touch offerings exclusively for vice presidents for student affairs and/or associate/assistant vice presidents. Please review the past and upcoming programs designed for campus decision-makers, and contact Fred Comparato for sponsorship opportunities.
Content Specific Smaller Events (Trending Topics in Higher Education)
NASPA hosts multiple smaller events throughout the year that focus on the trending topics that are occurring in higher education. Have a specialized area of expertise? Check out our upcoming events and contact Fred Comparato for more information.
NASPA Educational Partnerships
The ultimate goal of our NASPA Partners is to help support NASPA's mission, which is the principal source of leadership, scholarship, professional development, and advocacy for student affairs.
NASPA is proud to announce a new Educational Partnership Program, that will provide unique collaborative opportunities with our corporate friends. We are open to conversations with thought leaders who are interested in a more comprehensive, multi-year plan that will strategically benefit both NASPA's members and our partners. Interested in starting a discussion? Please contact Fred Comparato for more information.
Contact Us
Corporate Development Team