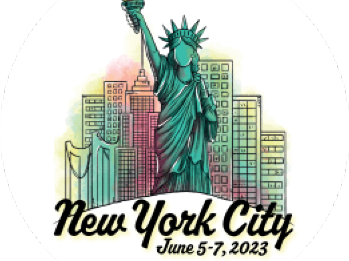 2023 NASPA Region II Annual Conference
Division/Group Events
Health, Safety, and Well-being
Student Success
Civic Engagement
Financial Wellness
Career and Workforce Development
Policy and Advocacy
Supporting the Profession
Equity, Inclusion and Social Justice
Region II
AVP or "Number Two"
Faculty
Graduate
Mid-Level
New Professional
Senior Level
Undergraduate
VP for Student Affairs
June 5 - June 7, 2023
New York City, NY
Join us as NASPA Region II heads back to New York City for the first time since 2018! Be a part of a signature professional development experience as we share innovative ideas, explore emerging topics in student affairs, and develop professional connections at the annual NASPA Region II Conference. This experience will give student affairs professionals the opportunity to strengthen skills, acquire knowledge, and develop meaningful connections with peers and colleagues.
Presented By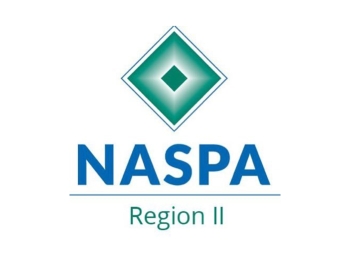 Program Proposal Submissions
NOW EXTENDED!
Call for Programs (Extended Deadline: February 10, 2023)
Prioritize your proposal submission, so that you don't miss your opportunity to present in New York City! Collaborate with other colleagues, or develop your own proposal, and submit your program for consideration using this Program Proposal Submission link prior to the deadline: now February 10, 2023.
Conference Scholarships
Are you seeking additional funding to attend the Regional Conference? NASPA Region II has your back!
We're pleased to announce that Region II is sponsoring 10 scholarships for our upcoming conference registration fee geared towards graduate students and new to mid-level professionals. This opportunity is only available to Region II Members; individuals will be responsible for meals, transportation, lodging, and other experiences in New York City.
For more information, or to apply, please click here.
Deadline to submit: February 10, 2023
Notification of Award: March1, 2023 or before
Schedule
Please peruse the tentative schedule for the NASPA Region II Conference at Pace University in New York City!
Day 1
June 5
Day 2
June 6
Day 3
June 7
11:30 AM
Check Back Later for Details
7:00 AM
Check Back Later for Details
7:00 AM
Check Back Later for Details
Venue
Pace University, NYC Campus
New York City, NY
One Pace Plaza, New York, NY 10038
In an effort to make this conference as accessible as possible, the Conference Committee is actively working to provide local and affordable hotel options near Pace University in addition to a limited number of bed spaces on-campus. Check back in January 2023 for information about hotels and on-campus accommodations.
Registration
Conference registration will open on March 1, 2023!
Registration Fees

Member

Non-Member

Student

Member

Student

Non-Member

SINGLE DAY

Member

SINGLE DAY

Non-Member

Early Bird

$250
$450
$100
$130
$200
$275

Regular

$300
$500
$130
$160
$225
$300

Late

$370
$570
$180
$210
$250
$325
Sponsorships
The 2023 NASPA Region II Conference will be at Pace University in New York City June 5-7th (Preconferences: 6/4-6/5; Conference: 6/5-6/7). The conference will bring together at least 400 Student Affairs Professionals for in person shared learning experiences, networking, and future planning.
Here is where you come in!
As we look toward the 2023 Region II Conference, we invite YOU to be a key part of the conference by sharing your organization's story, expanding your network/contacts, and engaging and building relationships with a broad range of decision makers and influencers on college and university campuses throughout Delaware, Maryland, New Jersey, New York, Pennsylvania, Washington, D.C., and West Virginia.
Sponsorship opportunities give you high visibility, many opportunities for relationship building, and the chance for positive ROI overall.
Sponsorship benefits for the June 2023 conference (dependent on specific sponsorship levels) include the following:
Public recognition or speaking opportunity during a conference signature event on List B, below.

Opportunity to host or co-host a conference educational session.

Access to the conference attendee mailing list.

Company and Sponsorship signage in prominent and highly visible locations during the conference.

Being linked to the event in conference publications and promotions using multiple modalities, including social media and conference emails.

Public recognition during a reception or constituent gathering, list A, below.

Brand recognition via your organizational logo on Region II conference mobile app and Region II websites.

Included conference registrations (the number is dependent on sponsorship level), allowing you to participate in learning alongside Student Affairs educators.

Option to exhibit during the entire conference (one 6-foot table, two chairs, power access), including placement on conference "bingo" card to drive traffic to exhibitors

Accessibility to the key decision-makers and influencers at colleges and universities

Increased visibility and exposure of your products and services.
Conference reception/constituent events able to be sponsored (List A)
Coffee break (multiple options)
Snack break/truck (multiple options)
Late night social (multiple options)
Signature conference events able to be sponsored (List B)
Closing speaker panel
Evening On-Site Social at Pace
Evening Off-Site Social, Location TBD
New Professional & Graduate Student Pre-conference
Networking lunch
Conference Sensory Space
What does it take?
Choose a sponsorship level and get ready to engage some amazing Student Affairs educators!
2023 Sponsorship levels are:
Platinum: $4,000 - includes all listed sponsorship benefits, and conference registration for three participants.

Silver: $2,500 - includes sponsorship benefits 4-11 (two opportunities in bullet 6), and conference registration for two participants.

Bronze: $1,000 - includes sponsorship benefits 6-11, conference registration for one participant.
Ready to set up on site?
Beyond the sponsorship opportunities, your company may consider being an exhibitor at the conference. Exhibitors will be placed near heavily trafficked areas of the conference to help maximize visibility and contact.
Exhibitor Opportunities - includes benefits 8-11
NASPA Member Exhibitor Booth (includes one conference registration) - $500

Non-NASPA Member Exhibitor Booth (includes one conference registration) - $800
Grad Program or Institute Looking to Promote?
Unable to come in person or commit to a larger sponsorship level? We invite you to be a part of a joint table promoting institutes and graduate programs directed towards student affairs professionals.
Non-exhibiting Institute or Graduate Program Promotion - $200
Ready to commit?
Please use the following Sponsorship Registration Form.
We look forward to you joining us at the 2023 NASPA Region II Conference NYC! Thank you for engaging with us. If you have questions, please let any one of us know.
Elizabeth Koch, Director of Operations and Engagement for SLICE, Carnegie Mellon University, elizabethk@cmu.edu, Region II Conference Sponsorships Co-Chair

Paul Ferrante, Assistant Director for Student Leadership and Engagement, Hofstra University, pferrante674@gmail.com, Region II Conference Sponsorships Co-Chair
Conference Committee
We are grateful for the volunteer service of the 2023 Conference Committee members. Their names, committee assignments, and institutions are listed below.
| | | |
| --- | --- | --- |
| NAME | ASSIGNMENT | INSTITUTION |
| Severino Randazzo | 2023 Conference Co-Chair | Hofstra University |
| Tiffany Hughes | 2023 Conference Co-Chair | Columbia University School of Professional Studies |
| Scott Sheehan | Assessment | Rochester Institute of Technology |
| Eric Cottrell | Chief of Staff | University of Pennsylvania |
| Paul Ferrente | Corporate Sponsorships | New York Institute of Technology, Long Island |
| Elizabeth Koch | Corporate Sponsorships | Carnegie Mellon University |
| Melissa Mayard | Featured Speakers | Columbia University School of Professional Studies |
| Evelyn Ortega | Featured Speakers | New Jersey City University |
| Jamie Baldwin | First Time Attendees | New York University |
| Scott Siegel - Ortiz | Local Arrangements | Columbia Business School |
| Anna Zinko | Local Arrangements | Adelphi University |
| Whitney Hedgepeth | Marketing & Promotions | Teachers College, Columbia University |
| Patrick Bussiere | MyNASPA App | Westminster College |
| Sharne Dillard-Parrish | On-Site Logistics | Pace University |
| Gabrielle "Abby" Lester | On-Site Logistics | Pace University |
| Tava Bingham | Pre-Conference | New York University |
| Gustavo Nascimento | Pre-Conference | Syracuse University |
| Kim Harvey | Programming | Nazareth College |
| Michael Thompkins | Programming | Ursinus College |
| Ashley Adams | Registration | Community College of Baltimore County, Essex Campus |
| Elissa Donovan | Registration & Virtual Engagement & Learning | Hartwick College |
| Gabby Colageo | Social Media | Berklee College of Music |
| Kelsey Matukas | Volunteer Coordinator | West Chester University |
| Nicole Zisa | Volunteer Coordinator | Columbia Business School |